Eye research changing lives
We seek to alleviate the burden from blindness and vision impairment through research that discovers new knowledge and improves patient outcomes and clinical practice.
About Australian Vision Research
The Ophthalmic Research Institute of Australia trading as Australian Vision Research is a not-for-profit organisation dedicated to promoting and supporting research and awareness into the causes of eye disease and the prevention of blindness. We are an incorporated company limited by guarantee and recognised as a Health Promotion Charity (HPC) under the Australian Charities and Not-for-profits Commission (ACNC). As a DGR accredited body, donations to Australia Vision Research are tax deductible.
In 2020 the Ophthalmic Research Institute of Australia, relaunched as Australian Vision Research. Our name has changed, however our mandate remains intact.
Australian Vision Research has a wide focus on supporting research into all major eye diseases.
Research grants are made available annually through Australian Vision Research available funds, which are sourced through bequests and donations from individuals and organisations. A large proportion of these funds have been donated by people whose sight has been saved as a result of advances in eye care, and who wish to express their appreciation in a tangible way. If you would like to join these wonderful donors in the fight against eye disease, click here.
To build partnerships, all Australian Vision Research grants require a RANZCO fellow to be an investigator.
The Australian Vision Research Research Funding and Impact Report 2019 found that our funding has a multiplier effect of at least 10 times. A large number of our 2009 grant recipients, for example went on to secure major grants from the NHMRC or the Australian Research Council (ARC). The impact of our support extends beyond academic success through to contributions to the profession, our community and the health economy. For example, the Australian Vision Research new investigator grants, now called 'Priming Grants', have kick-started early career RANZCO Fellows who are now contributing to the Royal Australian and New Zealand College of Ophthalmologists (RANZCO), driving research, advocacy and overall improvements in eye healthcare in Australia, New Zealand and the Asia-Pacific region.
5 Year Strategic Plan 2022 – 2027
Growing funding and support for research
Grow our financial capital and reserves.

Build research capacity through increasing grant value and numbers and support for applicants.

Develop a fundraising program
including appointing a fundraising coordinator to manage bequests, donations, government grants and partnerships.

Establish and nurture corporate sponsorship.

Create brand collateral to support AVR's activities.

Establish a CRM to manage stakeholder communication.
Growing our engagement
Improve our communication across channels with targeted content.

Establish new membership categories.

Report on our successes by publishing stories of grant recipients and member achievements.

Upskill members on research methodology and writing grant applications.

Develop and enhance digital interactions for members.

Grow our engagement with RANZCO fellows.

Grow our engagement with patients and have an active dialogue with consumers.
Growing our impact and reach
Establish an engagement plan for stakeholder groups and strategic partners.

Collaborate on whitepapers and thought leadership articles.

Dialogue with federal and state bodies and engagement on key issues in alignment with key partners.

Advocate for evidence- based eye care.

Collaborate with RANZCO and ANZEF on joint initiatives.

Support the next generation of eye researchers and, in partnership with RANZCO, clinician scientists.

Measure and report on the impact of our funding.
Continually improving our governance and sustainability in alignment with best practices
Restructure the board to include skills-based non-executive directors.

Ensure that our financial accounting follows best practice, is up-to-date, reconciled, and able to produce accurate reporting.

Establish a risk management plan and register to ensure adequate internal controls and risk identification and mitigation.

Review policies, committee charters and structures every two years.

Maintain our ASIC, ACNC and Health Promotion Charity registration.
​Prof Stephanie Watson OAM, NSW (Chair)
Dr Jennifer Fan Gaskin, VIC (Secretary)
Clin A/Prof Paul Healey, NSW (Honorary Treasurer)
Dr William (Bill) Glasson AO, QLD (RANZCO Nominee)
Prof Stuart Graham, NSW
Prof Alex Hewitt, TAS
Prof Matthew Simunovic, NSW
A/Prof Sam Fraser-Bell, NSW
A/Prof Peter van Wijngaarden, VIC
Our Advisory Committee 2023
The Research Advisory Committee (RAC) consists of leading research ophthalmologists and vision scientists from Australia and New Zealand. The Committee members are selected annually by the executive. They are joined by reviewers from around the world to conduct our annual grant application review.
Research Advisory Committee
Prof Alex Hewitt (Chair)
A/Prof Samantha Fraser Bell (Secretary)
PANELLISTS
Professor Andrea Vincent 
Dr Danial Roshandel
Dr Elisa Cornish
A/Prof George Kong
A/Prof Graham Wilson
Dr Jen Fan Gaskin
Dr John Wood
Dr Mark Hassall
Prof Matthew Simunovic
Dr Michele Madigan
Prof Nick Di Girolamo
​Prof Stephanie Watson OAM
Dr Sam Lee
Dr Thomas Campbell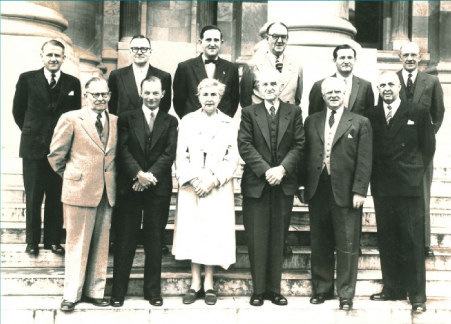 The Institute was founded in 1953 by a group of ophthalmologists concerned with the need to advance eye research in Australia. Since then, the organisation has distributed millions of dollars to fund research that has changed practice and advanced basic knowledge.
One of the Australian Vision Research founders and benefactors was Dame Ida Mann, DBE. Dame Ida Mann was a distinguished ophthalmologist whose long-term association with Australia began when she moved from England to Perth, Western Australia after World War II. She diagnosed a trachoma epidemic amongst indigenous people in the Kimberleys and travelled extensively in Western Australia in order to examine and treat indigenous people with trachoma. Mann became convinced that better housing and sanitation, rather than administration of antibiotics, would improve this health crisis. She was appointed as Dame Commander of the Order of the British Empire on 14 June 1980 for services to the welfare of Aboriginal people. She passed away in November 1983.
We have faithfully served our community and millions of Australians through our work for 69 years. We have been led by some of the most notable ophthalmic specialists in Australia and have partnerships and connections to key stakeholders and peak bodies in Australia and around the world. With the support of our members, donors and sponsors we will continue to support Ophthalmic Research in Australia and invite you to join us in our important work.
1953
ORIA is established to advance eye research in Australia.
1954
Ida Mann becomes the first female member of the ORIA Board. She leverages her trachoma research, highlighting its prevalence, causing disproportionately high rates of blindness among Aboriginal population of the Kimberley and Western Desert.
1956
An anonymous Sydney based ophthalmologist ("DW") who had dedicated his life to eye health as a clinician and researcher announced his intention to donate a significant portion of his estate to the ORIA.
1958
ORIA establishes the DW Fund trust deed in the ACT.
1959
The Research Advisory Committee (RAC) was set up to be led by the Research Director
1960
Professor Ida Mann, the Hon Secretary, is the principal author of the paper Experimental Trachoma Produced by a West Australian Virus which is published in the British Journal of Ophthalmology.
1976
The ORIA Board decides that the Director of Research position calls for a tripartite agreement signed by ORIA, the Victorian Eye and Ear Hospital and the University of Melbourne.
1980
Ida Mann is honoured for her many contributions to ophthalmology and made a Dame (DBE).
1994
The Gift of Sight Society is set up to raise funds and build on the capital base for research grants. Its main focus is to attract donations from ophthalmologists and their patients.
1996
ORIA receives a signed letter from the beneficiaries of the copyright from Sydney Long's artistic works, re-assigning these benefits to ORIA.
1999
Gift of Sight Society rolls out a macular degeneration awareness afternoon and a series of awareness programs for retinal diseases.
2001
An MOU is signed between ORIA and the New Zealand Save Sight Society – an agreement in which ORIA would assess NZ applications for research funds submitted by the research committee of the Save Sight Society.
2002
Gift of Sight Society ceases to exist. RANZCO Eye Foundation (REF) is incorporated as the fundraiser for the ORIA.
2004
REF official launch a fundraising function promoting its mission of supporting research, aiding projects and building community awareness.
2005
REF funds projects to further research in glaucoma and AMD; support sustainable aid for purchase of equipment in the Australasian region as well as projects in East Timor and Myanmar; increase eye health community awareness and coordinate a project with Diabetes Australia (NSW).
2007
REF funds the launch of the Fight Retinal Diseases project involving 10,000 patients/yr to establish a national system to track treatment outcomes for macular and retinal diseases; the Australia and NZ Registry of Advanced Glaucoma Project (ANZRAG); the Rare Eye Disease Surveillance Unit; The Minum Berreng ('tracking eyes') Indigenous Project; Australian and international sustainable aid projects in Timor Leste and Myanmar.
2008
REF partners with the Royal Australian College of Surgeons (RACS) and the Fred Hollows Foundation to fund the Central Australia Eye Health Program.
2010
REF funds: • the Australian and NZ Ophthalmic Surveillance Unit (ANZOSU); • Novartis Medical Retina Scholarships; • Central Australian Barkley Integrated Eye Health Program in collaboration with Fred Hollows Foundation; • Kimberley Diabetic Eye Care Program; • East Timior (Timor Leste) Eye Program (ETEP); and • Myanmar Eye Care Program.
2013
A major retrospective of the Australian Art Australia is held at the Royal Academy of Art in London. The Spirit of the Plains by Sydney Long forms part of the exhibition and reproduction rights are granted. An MOU between ORIA and REF is established.
2016
Professor Stephanie Watson becomes the first female Chair of the ORIA Board. ORIA contracts an independent legal institution to develop a constitution, highlighting ORIA's role in prevention and early intervention in eye disease.
2017
ORIA functions are officially integrated within RANZCO, ratified by the signing of the Service Level Agreement (SLA) between ORIA and RANZCO. SLA states administrative services for ORIA will be provided by RANZCO, with the ORIA Board continuing to oversee the running of the organisation. SLA clearly outlines the roles and responsibilities of RANZCO staff in providing each discrete service to ORIA The RANZCO Eye Foundation (REF) is dissolved.
2018
The ORIA Board announces target of 35% female participation in grant application process. Benchmark data indicates target is being met for both the proportion of females participating and the proportion of females receiving ORIA funding.
Annual reports and publications
ORIA Research Funding & Impact Report 2020
RANZCO and Australian Vision Research